SPLA Logon Reporting
The Microsoft® Services Provider License Agreement (SPLA) for service providers requires monthly use reports including zero use reports. Receive user logon reports for Subscriber Access Licenses (SAL) Access.
Client Silos
Natively developed to manage an unlimited number of clients. A simple workstation agent has one configuration option, the client being tracked. All activity journals are regularly sent to your cloud host utilizing a public IP address. Data is immediately presented per client.
SQL Server® Logon Reporting
A simple workstation agent installed at each SQL Server® hosted at your client sites provides details of each SQL Database accessed including the application the user utilized.
Idle versus Active
Discover all user application utilization, idle time, active time, screensaver/locked time. Additionally provides the number of unique pages shown to the user for each application usage.
Workstation Inventory
Workstation hardware is reported daily. Details include primary user, free space on each installed disk, RAM installed, CPU count, Monitor resolution, Windows Installation Key, IsGenuine status, Experience index and much more.
Offline and Online
Our always-on technology ensures uninterrupted tracking at all times. User activity journals are uploaded when online or can be manually transferred.

All journaled activity is stored at your SQL Server host.
Email Reminders
Create email reminders, associated with specific client workstations or applications. Email content is unlimited, for instance, software renewals, device service or replacement and more. Emails can be set to repeat as needed.
Value Added Services
Provide clients with multiple reports:

logon timecards;
outsourced software asset management;
application suite utilization;
workstation utilization reporting;
and more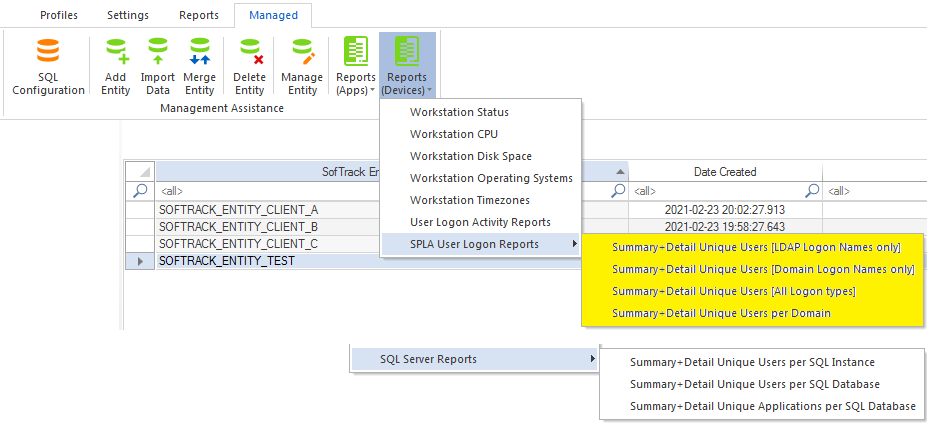 Support your Microsoft® SPLA requirements for Subscriber Access Licenses (SALs) while increasing your client satisfaction with value added services. As shown above there are numerous highlights to reduce your costs of customer engagements. All functionality is provided for Windows® desktops, virtual, cloud, terminal server including Citrix®.

Click here to contact us now.
Details: Managed Assets Agent
An easy to install workstation agent that requires no configuration and no active network connection to fully operate and journal all user initiated activity. Our low-impact design typically does not require white-listing in your endpoint protection system.
Our administrator interface is used to create an MSI for installation of the workstation agent.
The administrator interface provides the ability to specify the reporting location (i.e. client entity) to be used for each MSI. The entity is utilized to determine the SQL database to be used for activity journals.
The activity journals from each workstation/client will automatically be uploaded to your self-hosted cloud or on-premise server (via IPv4 or Named Pipes). Each journal is encrypted and specifies the client entity, ensuring uploading to SQL Server® is always accurate and never confused. The journal files can also be emailed or manually copied, providing comprehensive methods to ensure your data is always collected and reportable.
This unique functionality enables simple division of records by any determination you create. For instance, geographic, personnel classification, sub-contractors, and so on. The MSI entity configuration can be changed or updated as needed at each workstation. Reporting includes the ability to combine entities to achieve an overall enterprise view.

Click here to contact us now.
More
Clients Supported
Windows® 7 through the current version of Windows®
Windows® Remote Desktop Services
Citrix® Servers (all versions)
All Virtual Windows®-based Desktops
Functionality
Work from home
Online with your network
Offline from your network
Completely disconnected
Technologies
Small footprint proprietary agent
Built-in MSI creation provides simple installation and removal
Supports all versions of Windows® server including Windows® Core servers
Supports all versions of SQL Server®
SQL backend
Your self-hosted server on-premise or the cloud is utilized to collect and process all client workstation journals into SQL. We believe your data is yours, and, unlike other solutions, we do not receive your client activity journals.